Welcome to The Bear Trail
Brand new kids adventure trail for all the family
He who Bears…Wins!
About The Bear Trail
The Bear Trail is a brand new outdoor children's adventure trail. It provides a site for children…(and adults!) to run, jump and climb. There are a series of obstacles which involve stepping across bear infested mud pits, tumbling through the bear tunnels and climbing bear mountain!
Take on the Challenge
The concept has been conceived in order to provide children with a space to invent play and be tested so they work together and push their boundaries. 
We believe children should have a chance to run free out in the wild, challenge themselves mentally and physically, get wet, run and climb around in muddy fields and experience an element of risk which reflects life; The Bear Trail encompasses all of this, but in a safe environment. We do ask parents/guardians that there is one person over the age of 21 present on the trail for a maximum of 6 children. 
Facilities
Free car-park: to avoid disappointment, please book a slot on the trail using our online booking system
Picnic area – we all know you can't beat mum's sandwiches!
Baby changing facilities onsite
Outdoor wash point but bring spare clothes and appropriate footwear
We welcome schools and large groups, and even birthday parties! Please enquire on the contacts page.
We love our four legged friends so feel free to bring your dogs on leads! We do stress that there is no such thing as a dog poo fairy so please pick up after them!
Get Muddy!
There is a path for bears who don't like getting their paws wet…However for the more adventurous there are stepping stones across mud pits, and nets across rivers. Mud washes off… experiences stay forever!
The Trail is for all ages. There is a 'cubs corner' for children under 1 metre, but we have two year olds tackling the main trail, along with 14 year old teenagers, along with 70 year old grandparents! It really is for ALL THE FAMILY!
Refresh
When the cubs and bears are tired, there is a Bear Cave Café providing hot and cold delights. We have a traditional wood fired pizza oven which is lit everyday in the school holidays and on the weekend during term times. Here is the pizza (9") menu:
Margarita           –     £5.50
Pepperoni          –     £6.00
Hawaiian           –     £6.00
Vegetarian         –     £6.00
BBQ Chicken     –     £6.50
Meat Feast     –    £7.00
Sandwiches
Cakes
There is an outdoor shower where you can get most the mud off and toilets to change in.
Obstacles
1. Bear Net
2. Mud Pit Swing
3. Zip Wire
4. Paw pads
5. Grizzly's Bridge
6. Balancing Bear
7. Swamp Rope
8. Balancing Poles
9. Rickety Bridge
10. Belly Crawl
11. Scramble Nets
12. Hay Bale Race
13.Wobbly Bridge
14. The Tunnels
15. Bear Mountain
16. Six Bay Swing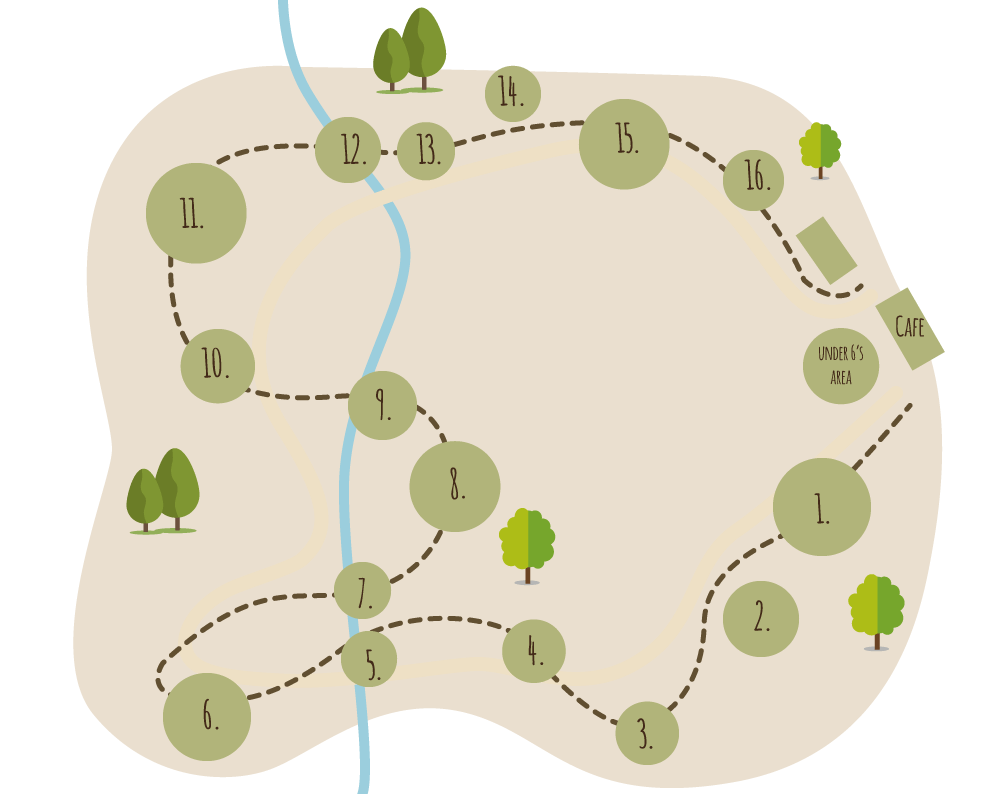 Birthdays are the BEST! We.Love.Birthdays!! We have hosted hundreds since we opened on the 23rd July last year! All of them full of fun, fresh air and not forgetting mud! But this 23rd July it's our turn! We will be a whole one year old! What a year we have had! Never...
read more
How To Find us
Westcott, Cullompton, Devon, EX15 1SA
PLEASE NOTE: Sat Nav may take you to the wrong address. The best way to find us is it's opposite the Merry Harriers Pub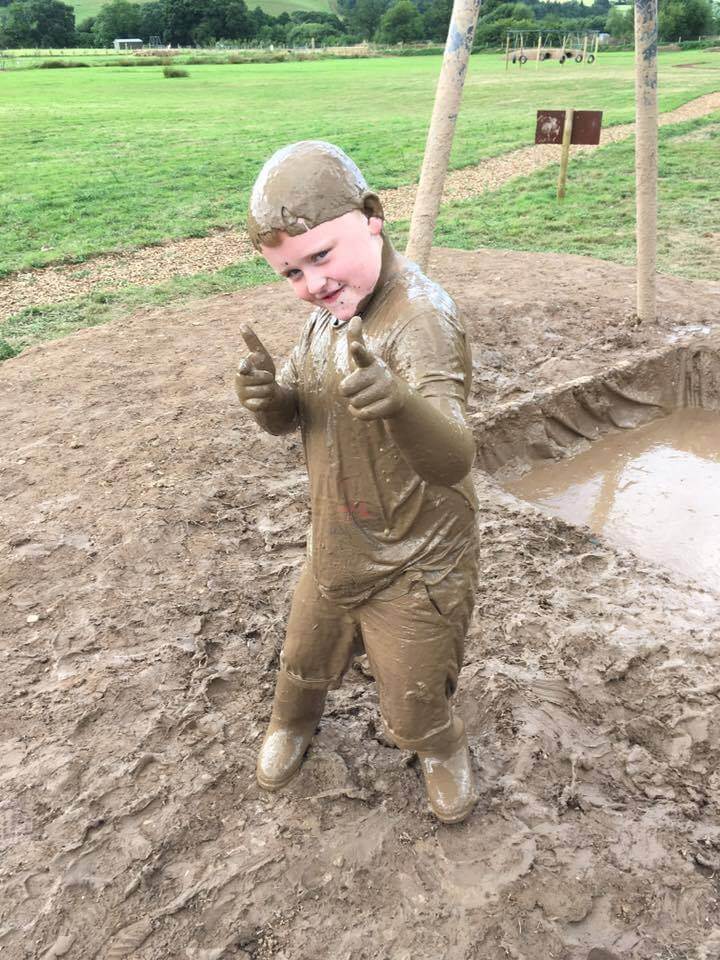 Book your tickets
From 10am – 12pm everyday (until the end of school holidays) we only accept pre booked customers, so to avoid disappointment please book your tickets before arrival. Tickets can be purchased on-site after 12pm but there is no guarantee there will be space! If you have pre booked you will be guaranteed entry all day at any time you wish. To book, please click the link below
Book your Birthday Parties
For more info and to book your birthday parties follow the link below
Do you have to book in time slots?
No, the ticket is for all day (10:00 – 1700/ dusk if earlier)
If my ticket says 1000, can I turn up later?
Yes, you can turn up at any time. You can return to your car at any point all day and keep entering the Trail.
If I am only watching, do I have to pay to get in?
Yes, it is an admission fee like all attractions. We have had much feedback from adults who have enjoyed being involved as a family and that it is a very rewarding day out.
Are there any concessions?
Yes, there are concessions of a price reduction of £1 off the normal price. This relates to seniors, pregnancy, disabled and disabled carers (1 carer per disabled admission).
Do I have to book?
You can either book or pay on the ticket office on the day. When it is busy (school holidays), we would recommend booking due to the bookings have guaranteed placing and the rest would be on availability on the day.
Do I have to print my ticket?
No, you can just produce your booking reference which has been sent to you via email.
Do I have to pay for parking?
No, it is completely free. We would ask that the car park is maintained for the use of The Bear Trail only.
Are there toilets and showers?
Yes, there are toilets for male, female and disabled with baby change facilities in the male and female toilets. We currently have one outdoor shower, but are looking to insert some changing facilities and more showers.
What clothes should I wear?
It is advised to wear older clothes which you are not concerned if they get muddy. Old trainers and tracksuits are great and some people wear wet suits which could be good in some weathers. A spare change of clothes and a towel is critical.
How long do I spend on the Trail?
It is up to you but generally people spend between 2-4 hours.
Can I have a Party at the Trail?
Yes, please go to the birthday party link on the home page for all information.
There is also the option to hire the barn out in the evening, please contact us on the feedback form to ask for further details.
Opening times/ Pricing
2017
From 20th February - 2nd April
Wednesday to Sunday 10am - 5pm
•••
EASTER HOLIDAYS
3rd April - 23th April
Everyday 10am - 5pm
•••
24th April - 28th May
Wednesday to Sunday 10am - 5pm
OPEN ALL BANK HOLIDAYS
OPEN 1ST MAY AND 29TH MAY
•••
HALF TERM
29th May - 4th June 
Everyday 10am - 5pm
•••
5th June - 16th July
Wednesday to Sunday 10am - 5pm
              •••
SUMMER HOLIDAYS
17th July - 3rd September 
Everyday 10am - 5pm
Admisssion Fees:
ADMISSION FEE IS FOR EVERYONE ENTERING THE TRAIL.
Over 1 meter                                                   -              £7.50
Under 1 meter                                                -              £4.50
Concessions (disabled, disabled carer,      -              £6.50
Pregnant or a senior) must show passes
Group discounts:
20-49 people                        -              £7.00/pp
50-79 people                        -              £6.50/pp
80+ people                           -              £6.00/pp
Call us today!
01392 881780