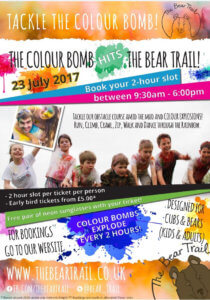 Birthdays are the BEST! We.Love.Birthdays!! We have hosted hundreds since we opened on the 23rd July last year! All of them full of fun, fresh air and not forgetting mud!
But this 23rd July it's our turn! We will be a whole one year old! What a year we have had! Never in our wildest dreams did we expect the reaction and support we have been lucky enough to receive! Thank you! Thank you to everyone who has visited us, liked our Facebook page, suggested improvements, shared their day with us, or recommended us to anyone and everyone! We have had massive highs and the odd low, but one thing is for sure…we have LOVED it! And as long as you'll have us…we are here to stay! Getting and BIGGER and BETTER everyday!!
So in true Bear Trail fashion we are celebrating in style! We bring to you THE COLOUR BOMB! Our version of the already famous Colour Run…but with a twist! We have 18 obstacles to climb, slip, slide, run, skip, zip, tumble and swing in, under, over or through. Not forgetting the (optional) mud to wallow in! For one day only our
Trail will transform into the ultimate colour explosion! Four colour stations will shower you in the rainbow whilst you make your way around the course! And the best thing?? You can go round as many times as you like in the 2 hour colour bomb explosion!
It's a day out for all the family…from the little ones right up to the big ones!! Grab your ticket early to take advantage of the Early Bird prices!! Once they're gone, they're gone!!
Book here: https://sales.webticketmanager.com/TheBearTrail
Remember He Who Bear Wins!